Ironing may not be something you look forward to but with the right iron, you could finish the job faster and maybe even have some fun while you are at it. In today's Rowenta DW9280 Reviews we will make sure to give you a clear idea of why this iron is best for quilting.
Rowenta DW9280 Digital...
1800 WATTS OF POWER TO CLEAN THE WHOLE HOUSE - Iron out the wrinkles and refresh not only any type of clothing, but also other house hold garments like curtains and blankets
POWERFUL BURST OF STEAM (210G) - Smothes out even the worst wrinkles on thick garments such as suits or curtains with up to 30% more steam than irons without pump technology
400 STEAMHOLES AND STAINLESS STEEL SOLEPLATE - Even steam distribution and smooth gliding across different garments for years to come
The Rowenta DW9280 Steam Iron press removes wrinkles from all kinds of garments and home linens much faster than traditional irons, leaving you with plenty of time to attend to other things.
It is easy to use, a versatile tool designed with smart technologies to make your life much simpler. Ironing may be a chore but it doesn't have to an unpleasant one.
So is this modern steam iron right for your home? Let's find out.
The Rowenta DW9280 Reviews at a Glance
The manufacturers choose the color blue for the iron which really complements its tough and unique shape, giving the tool an almost 'futuristic' look.
One look at the iron's sturdy stainless steel soleplate and you know that it is built to last. The whole iron from its top to bottom is well constructed and it looks the part.
The handle is designed to give you a strong grip and better control of the tool while the high precision tip enables you to work on tight areas such as around the buttons, pleats, and collars.
Equipped with 1800 watts of power and a pump injection technology, the Rowenta DW9280 works faster, stronger and more effectively than most of its competitors.
Features and function
There is no doubt that the Rowenta steam iron DW9280 is packed with smart features and functions that make ironing an incredible experience every time. Here are some of the things you can look forward to if you decide to get this steam iron for your home.
Power Steam
As mentioned earlier, Rowenta iron DW9280 is charged up with 1800 watts of power which makes it possible for it to heat up in seconds and maintain the heat for quite some time.
It comes with an integrated electronic pump injection technology that releases 30% more steam when compared to irons designed without pumps, which means that you can easily remove stubborn wrinkles and straighten out all kinds of fabrics, no matter how creased up.
Stainless Steel Soleplate
There is nothing more horrible than to witness our favorite clothes or fabrics sticking to the soleplate of heated iron. To prevent such accidents and damage to fabrics the manufactures of the Rowenta DW9280 made sure that the iron's soleplate comes with a non-stick coating and is made safe for use even when ironing with full heat.
There are 400 micro-holes set all across the plate for even distribution of steam and the prevention of hot spots. With the iron gliding smoothly over the fabric while releasing sufficient steam to every inch you can expect your clothes looking fine and polished in record time.
Caution: If you are not good at ironing, you should avoid synthetic clothes to iron. It may melt by overheat.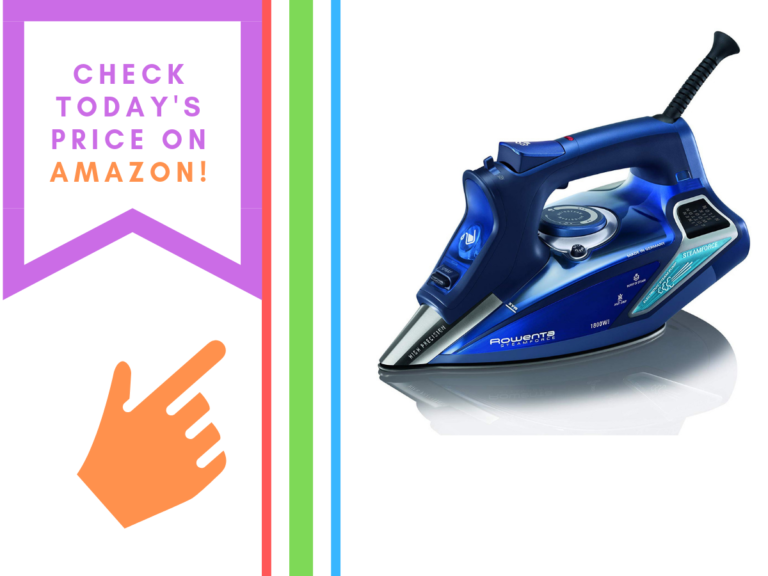 Vertical Steam
You can now steam your curtains or any hanging garments with the vertical steam option. This amazing feature allows you to attend to all the hanging garments in your home without having to bring them down and spreading them on an ironing table.
Simple Operation
Despite all the smart technologies and functions, iron is an easy one to use. It comes with one-touch controls and an LED digital display that alerts you of the temperature level.

By simply choosing between linen, cotton, silk, nylon or wool you will have the iron automatically heating up to the accurate temperature, eliminating guesswork from your part and saving your fabrics from damage.
Save Energy
As if all the features mentioned till now weren't impressive enough, Rowenta took a step further and incorporated energy-saving systems.
The smart steam motion sensor detects when the iron is idle and stops steam from releasing during that period, saving both water and energy.
But it doesn't end there; there is a 3-way auto-off function that turns the iron's power off after 8 minutes when left inactive in a vertical position. The power is also stopped after 30 seconds if the iron is left lying horizontal or tipped over.
So in case, you forget to turn the power off or need to rush out for an emergency the iron knows to take care of itself.
Let's watch a video of Rowenta DW9280 reviews!
FAQs
What is the water tank's capacity?
The tank holds 12 ounces (0.45 kg) of water.
What is the length of the cord?
7 feet.
Rowenta iron warranty and support period?
1 year official warranty.
Is this a good iron for quilting?
Yes. The Rowenta DW9280 has a large soleplate and makes a lot of steam which gets the work done faster making it ideal for quilting and ironing large pieces of fabric.
More FAQs available here.
We also have 10 other best iron for quilting reviews in case if you want to check.
Conclusion
The Rowenta DW9280 qualifies as one of the most powerful and safe steam irons on the market today. Our Rowenta DW9280 Reviews covers almost all of its main features with pros and cons.
It heats up fast, glides smoothly over all kinds of fabric and requires almost no maintenance, all resulting in effortless ironing.
Set aside the minor flaws and you have an iron that is designed to cut down on ironing time and make the task 10 times more fun.