Today, we are doing a review for the lovers of quilting. Meet Singer S16 Studio, an industrial-grade machine by Singer! We consider it one of the best picks for quilting for both beginners and advanced quilters. But what is so special about S16 that makes it such a great model? Let us introduce you to our S16 Studio, in which we will examine every single feature of the machine. Let's go!
Alternative Product: SINGER Professional 9100 sewing machine.
Feature of Singer S16 Studio:
Stitching Quality and Speed
Worry not if you are looking for a sewing and quilting machine with high speed as Singer S16 Studio delivers astounding 1600 stitches per minute, which is enough for you to complete even your most high-volume tasks quicker!
This model allows you to adjust thethread tension, which will ensure stable stitch quality regardless of thefabric type. The only thing you need to do is turn the dial on the front of themachine to get that perfect thread tension!
S16 is a straight-stitch-onlymachine. If you consider the low number of stitches a bad thing, think twice asthe quality of the seams delivered by this machine is truly exceptional. WithS16, you will be able to create the most perfectly straight stitches you canget. This makes this model one of the best picks for those who will be workingwith a straight stitch exclusively!
The downside of only one stitch is thatit makes this machine inappropriate for those quilters who absolutely need morebuilt-in stitches.
With convenience, S16 has no issueswhatsoever! It will make sure you spend as little time as possible forpreparation of your projects. Before you start quilting or sewing, theside-loading vertical full-rotary bobbin system will allow you to quickly andeasily install the bobbin. Then, the independent bobbin winding system willmake sure you get your machine up and running in no time! By the way, it isindependent because you can sew and fill the bobbin simultaneously! The lastthing you need to do while preparing is to activate the automatic needlethreader!
During sewing or quilting, you willbe able to conveniently control the position of the presser foot. The sensor ofthe foot will guarantee that it is properly positioned for an easy start.
Another great feature is the programmable needle with up/down positions. In accordance with your current tasks and needs, you can easily raise or lower the needle, which makes S16 fitting for appliqueing, quilting, and pivoting fabric. To change the height of the needle, you just need to use the convenient knee lifter, which will allow you to regulate the needle without interrupting sewing.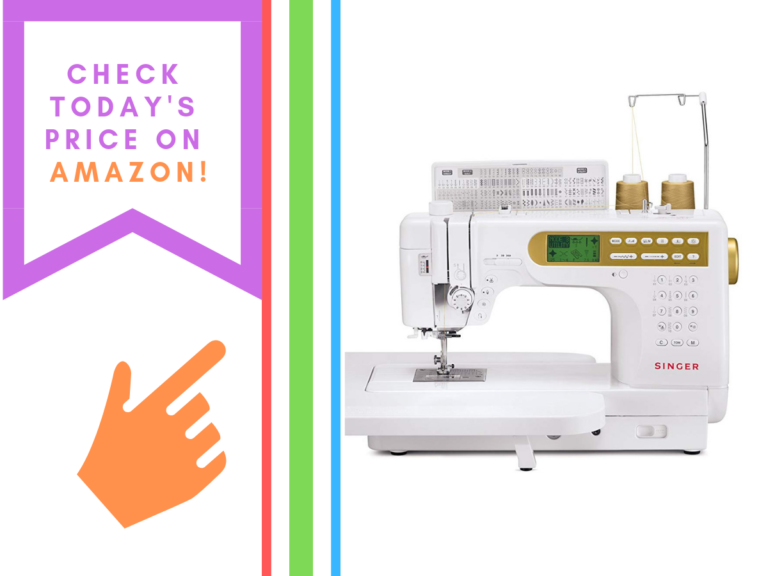 Finally, after you are done, youcan fix the stitch with the automatic reverse feature with a push of a lever. Youdon't need to think about manually cutting the thread as the auto threadtrimmer will cut the top and bobbin threads. Then, you can immediately move onto your next task. See what we mean by saying that this machine is quick?
We almost forgot that Singer S16 Studio has double built-in lights to illuminate your workspace and facilitate quilting or sewing darker fabrics!
Regardless of how great S16 is, it has a couple of drawbacks with its comfort. While a free arm isn't that necessary with quilting machines, S16 doesn't have one, meaning that working with smaller pieces of fabric will be more difficult.
Though this unit didn't make it to our best sewing machine for quilting, it still has some quality features. Let's have a look.
Post You May Also Like– How to Clean Sewing Machine
Accessories
As you would expect from an around$1000 quilting machine, S16 comes with quite a good set of accessories, bothgeneral-purpose and for quilting. The set includes accessory feet (all-purpose,quarter-inch, free-motion, narrow rolled hem), darning plate, needles, 5bobbins, thread spool cap, thread spool net, thread spool holder, 2screwdrivers, fabric guide and setscrew, a bottle of sewing machine oil, kneelifter, soft-sided dust cover, and a storage box. Obviously, the machine comeswith an instruction manual, power cord, and a foot controller.
A useful item that this sewing and quilting machine lacks is an extension table. It is especially helpful in quilting, but the workspace of S16 should be enough for most applications!
Pros:
Exceptionally durable.
The extremely high-speed machine delivers 1600 stitches per minute!
One built-in stitch for perfectly straight and quality stitches.
Adjustable thread tension.
Convenient side-loading bobbin system.
Easy threading with S16's auto threader.
Presser foot sensor for proper foot positioning on the start.
Knee lifter to lower/raise the programmable needle.
Automatic thread trimmer plus auto-reverse to help you with finishing your projects.
2 built-in lights for illumination of the workspace and your fabrics.
A big set of accessories.
25-year limited warranty.
Cons:
Only one stitch.
Has no free arm.
Works with 110V-120V only.
Only shipped within the US.
Let's Watch a Video Review of Singer S16 Studio!
Who Should Buy the Singer S16 Studio?
Those who absolutely love quilting! S16 has what's the most necessary for it at an affordable price. Besides, if you need only one straight stitch, this machine will be perfect as it delivers seams of astonishing quality and durability. S16 Studio is an ideal machine for those quilters who want to get a durable model capable of quickly completing high-volume tasks.
Conclusion
Here you have it! Was Singer S16 Studio the sewing machine for quilting? We hope that our S16 Studio review has managed to help you with your searches for the perfect.
Post You May Also Like: